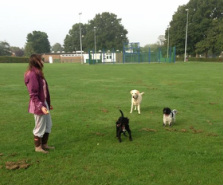 Dog Walking- group or solo walks available.

Are the Winter morning and evenings too dark to give your cherished dog a good walk?
Has work gone crazy busy so you struggle to pop home at lunch to give your dog the walk they would normally get?
Or do you just need to free up sometime but want to ensure your dog still has plenty of exercise?
If so, then this service would be the perfect solution to your problem!

Group walks are a maximum of 4 dogs at one time, this allows great socialisation for the dogs but still gives optimum attention for each dog . The group walks will normally be around 45 minutes to an hour. Your pet will be transported in a fit for purpose van, that includes crates for safe transportation. I always carry water, a first aid kit and towels to dry the dogs off.


All dogs are kept on a lead until we feel recall has been suitably established. For your peace of mind your dog will only be allowed off the leash with your written permission.


Although most dogs are sociable creatures, I understand that there will be some that just wish to be on their own. They are quite happy exploring and playing by themselves so do not want other dogs spoiling their walk. With this in mind, I offer solo dog walks. These walks are very much custom made for your dogs individual needs. We can discuss this in further detail, should this be an option for you.
---
---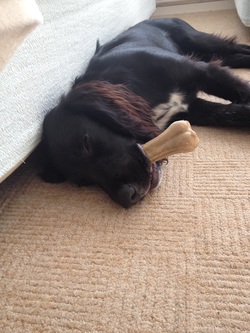 Pop in Visits for Dogs-

This is doggy dare care at its best! Your dog will feel safe, secure and comfortable in its own home. You will feel happier knowing your dog is in its familiar enviroment lowering your stress levels and your dogs.

This is a great service for you if you're at work for long hours and are unable to get home. If you want to go out for the day or evening, you can rest assured that your dog will be well looked after.

Pop in visits include me visiting your home to feed your dog and refresh their water bowl. I'll ensure they visit the garden to relieve themselves and to have a sniff around to make sure everything is still to their liking! I can then play with them for a while either inside or outside if the British weather allows. Once I am satisfied your dog is ok to be left again, I will take care of settling them down in their bed so they are comfortable with being left until you arrive home.
---
---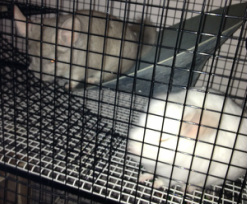 Pop in Visits for Cats and Small Animals-

Avoid catteries and other boarding services and let your pets stay in the comfort of their own home. Your cat, rabbit, guinea pig, hamster, chinchilla or any other type of pet you may own, will feel more at ease in their own home and with recognisable surroundings.

A brilliant service for you if you are going away on holiday, a long weekend break or are going out for the day and/or evening. With my support you can be certain that your loved pet will be cared for while you are away, as if they were my own.

Pop in visits for cats and small animals include me visiting your home to feed your pet and refresh their water bottle/bowl. You can be satisfied that I will empty and clean all litter trays and any hutches, if needed.
---
---
---